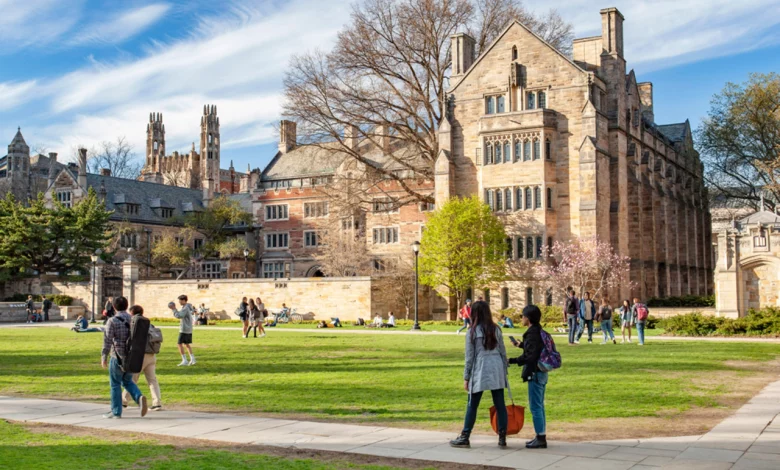 Is it your dream or do you really like studying in the USA? If so, your dream can now become a reality. Are you seeking PhD degree programs in the United States of America? Yale University which is the most renowned, prestigious, and top-ranked private Ivy League research university in the USA offers you financial aid for your studies. Founded in 1701, it is the 3rd oldest institution of higher education in the U.S. If you really want to do a PhD program at Yale, you may be conferred with funding for your study. Learn now How to Get Funding for Your PhD Degree at Yale University for the Graduate School of Arts and Sciences? Let's now find out the details.
Information for You – How to Get Funding for Your PhD Degree at Yale University
Yale University is fully committed to being financially accessible to students from all parts of the world and all backgrounds. Financial aid is provided to them so that they can entirely focus on their studies to produce the best results. Thus, if you are searching for funding sources to fund your Ph.D. degree, there is no need to get worried about it, as Yale is out there to put your financial burden aside. Let's now learn how does funding work at Yale for doctoral studies in ahead in this post?
Funding Availability for Ph.D. Students at Yale
Every student is aware of Yale University scholarships, as the university is popular for its financial assistance provided to students who come from all corners of the world. As a PhD student, you are more secure with financial help than other students at Yale since there are numerous benefits attached as far as funding for a Ph.D. program is concerned.
At Yale, Ph.D. students are normally fully funded for a minimum of 5 years. During this period, the students receive a 12-month stipend for the coverage of their living expenditures and they receive a fellowship that makes the coverage of the full cost of their tuition.
The funding provided to students comes from various sources during the enrollment of students. It should be noted that every student and every financial aid package of a program could be different. Although it might appear complicated, the Graduate School and your program will take care of most of the accounting behind the scenes.
Financial Aid/Assistance Provided at Yale to Ph.D. Students
Funding availability or financial aid being discussed here for the Ph.D. program is for the Graduate School of Arts and Sciences. For other graduate schools (Ph.D. programs), the criteria and the funding facility might be different. Interested candidates should then refer to specific web pages of Yale University PhD Programs according to their interests while browsing the official website of Yale University.
Students can avail of financial aid at Yale in the form of fellowships, teaching fellowships, tuition fellowships, traineeships, and research assistantships. The nature of the assistance varies among departments and divisions. In most of the departments and programs, the students of Ph.D. are guaranteed 5 years of 12-month stipend and tuition support.
Applicants for admission to doctorate (Ph.D.) programs will be considered automatically for all Yale traineeships, fellowships, teaching fellowships, and research assistantships for which they are eligible.
The announcement of these awards (financial aid) is done in students' admission letters, which are normally provided or issued to them during the month of February. Students are also strongly encouraged to find out financial assistance or support from external sources. For more details, you may check out or read External Fellowships and Combined Award Policy.
Apart from grants and fellowships for students' tuition and living expenses, the students enrolled at least half-time in degree-granting programs are also provided with Yale Health Basic Coverage at no cost.
Health Award is also provided to eligible Ph.D. students that make coverage of the full cost of the single student and the student plus child or children Yale Health Hospitalization/Specialty Coverage (including prescriptions coverage), half the cost of the student plus spouse coverage, and the student plus child/children portion of the student family plan.
Eligible Ph.D. students with a kid/child will also be provided an annual student family support subsidy in the amount of $7500 that is issued in installments of $3750 per term. For students of the Ph.D. program who elect a family plan at Yale Health, the family support subsidy is initially applied automatically for paying the cost of the spousal portion of family plan coverage. The remaining (remainder part) subsidy will then be disbursed to the student. For each additional child who is under 6 years of age, the annual subsidy will increase by $2500 ($1250 per term).
Note: If you do not participate in Yale Health Hospitalization/Specialty Coverage, health awards will not be provided to you. Health Awards will not cover the graduate dental and vision plans, which are available options to be chosen to purchase by the eligible students for themselves and their dependents.
For accuracy and updated information, you should visit the official details (Programs and Policies) to learn everything.
Types of Funding Available to Ph.D. Students
At The Graduate School of Arts and Sciences at Yale University, the major types of funding available to the students of the Ph.D. program are mentioned as under.
Teaching Fellowship (TF)
University Fellowship (UF)
Training and Research Grant Support
University Dissertation Fellowship (UDF)
Sixth-Year Funding Initiative
External Fellowships
Health Fellowship Award
Departmental Funds and Awards
D. Student Family Subsidy
Travel Health Fellowship
Dean's Emergency Fund
Additional Summer Resources
Additional Financial Assistance
Note: Detail of each funding is available on the official webpage (a link to the same is provided in the following paragraph.
How to Get Funding for Your PhD Degree at Yale University
The entire process mentioned above in the post is for getting the funding for your Ph.D. program at the Graduate School of Arts and Sciences at Yale University. Interested candidates may follow the admission and funding process once the application period is on. For more details, you may visit the official webpage.
CURATED FROM: GrabAScholarship