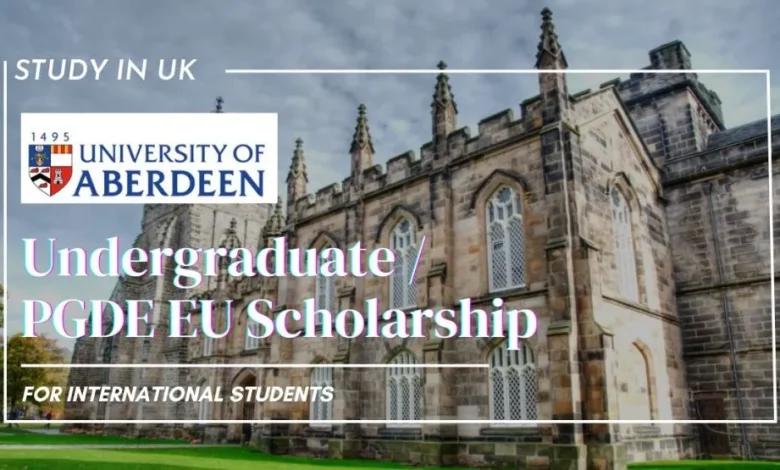 Deciding to study in the United Kingdom is an investment in your future. The University of Aberdeen is glad to offer the Aberdeen Global Undergraduate / PGDE Scholarship to EU students who commence their studies in August or September 2023.
The grant is available only for elf-funded full-time on-campus EU international students. This scholarship is being presented on a transitional basis to help mitigate Brexit's immediate effect on Aberdeen's EU student community.
Founded in 1495, the University of Aberdeen is home to 12 different schools, which deliver teaching and research on a broad range of subjects and courses. There is a wide range of degrees, undergraduate or postgraduate courses. It has supportive staff who are experts in their subject and help students to succeed in the degree of their choice.
Why at the University of Aberdeen? The University of Aberdeen has been acknowledged worldwide with outstanding levels of student satisfaction. Gain the skills to study in the UK's top-ranked university with their international pathway courses.
Application Deadline: 30th June 2023
Brief Description
University or Organization: University of Aberdeen
Department: All
Course Level: Undergraduate / PGDE
Award: A £5,000 tuition fee discount
Access Mode: Online
Number of Awards: Varies
Nationality: EU International
The award can be taken in the UK.
Eligibility
Eligible Countries: European Union (EU) – Austria, Belgium, Bulgaria, Croatia, Cyprus, Czech Republic, Denmark, Estonia, Finland, France, Germany, Greece, Hungary, Italy, Latvia, Lithuania, Luxembourg, Malta, Netherlands, Poland, Portugal, Romania, Slovakia, Slovenia, Spain, and Sweden
Acceptable Course or Subjects: The fellowship will be awarded for Undergraduate / PGDE courses
Admissible Criteria: To be eligible, the applicants must be from European Union (EU) and commences their studies in August or September 2023.
How to Apply:
For the Undergraduate / PGDE EU scholarship, applicants must be enrolled in an undergraduate / PGDE course at the University of Aberdeen in August or September 2023.
Supporting Documents:
Applicants must prepare all the following as part of the application:
UCAT score,
Visa
Transcript
academic achievements/ previous degree or certificate
Current passport or travel document
Passport size color photograph
Financial evidence
Letter from University
Proof of accommodation
Admission Requirements: Academic requirements vary according country to country.
Language Requirement: To study for an undergraduate degree at Aberdeen, it is essential that you can speak, understand, read, and write academic English fluently. The standard English Language criteria for undergraduate study at Aberdeen check here.
Benefits
The University of Aberdeen will provide a £5,000 tuition fee discount to eligible self-funded Undergraduate / PGDE students who were previously eligible for Home (Scottish/EU) fee status but will now be classified because of Brexit as International students for entry from September 2021.
The award will apply for the full duration of your studies.
The award will be included in students' offers on UCAS and in their Certificate of Acceptance to Study (CAS) letter for their visa.
CURATED FROM: Scholarship-Positions