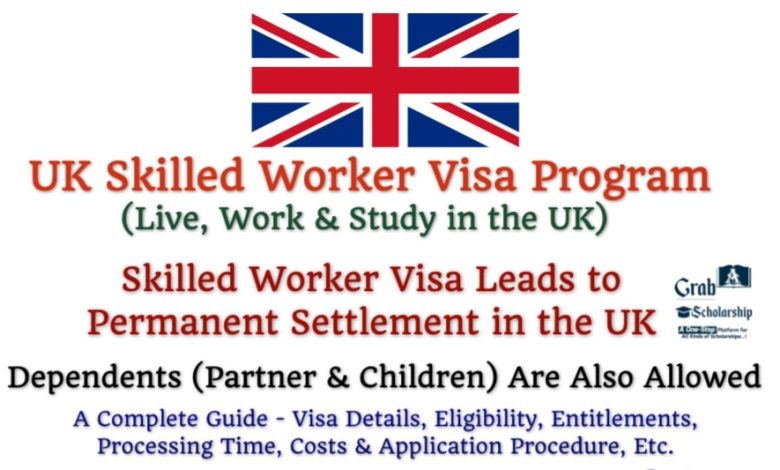 Are you searching for a skilled worker visa UK, if so and you would like to avail this opportunity, you may do so provided that you meet the eligibility criteria set by the UK government. With UK skilled worker visa, you can come and stay in the country to do an eligible job (work) with an approved employer. It should now be noted that this visa (skilled worker) has replaced the Tier 2 (General) work visa. With this skilled worker visa, the holders are allowed to work in UK waters.
To be considered for this visa, the applicants need to meet the eligibility standards/criteria mentioned as under:
The applicants have to work for a United Kingdom employer approved by the home office.
They have a 'certificate of sponsorship' from that employer that reveals the information about the applicant's role offered in the UK.
The applicants have to do a job that is available on the list of eligible occupations.
They must be paid a minimum salary (how much depends on the work type they do).
It needs to be noted that the specific eligibility is what depends on the nature of your job.
Those who want to apply for the skilled worker visa UK must hold a confirmed job before they apply for this visa.
Note: If you find yourself ineligible for the UK skilled worker visa, you could then seek another type of visa to work in the United Kingdom.
Check: Netherlands Work Visa Guide – How Foreigners Can Get Netherlands Work Visa
Knowledge of the English Language
English proficiency is required. Applicants have to be able to proficient in English speaking, writing, and reading. They must understand the language. By the time you apply, you need to prove your skills in the English language.
Duration of Stay in the UK
This visa lasts for up to 5 years prior to your need to extend it. This visa can be extended or updated when it expires or you change your job or employer.
In case, you like to stay longer in the United Kingdom, you can apply for an extension in visa as many times as you want as long as you meet the eligibility criteria. The most interesting and beneficial thing is that you could also be eligible to apply for permanent settlement in the United Kingdom (this is also popular as 'indefinite leave to remain') after 5 years. This provides you the right to work, live and study there in the UK for as long as you want, and you may apply for benefits if you are eligible.
How Long Does It Take
You are able to apply for a visa up to three months prior to the day you are due to begin work in the United Kingdom. This date will be listed on your certificate of sponsorship. You will be required to prove your identity and provide your documents as part of the application.
If you need an appointment to do this, you could need to allow extra time. Once you begin your application, you will come to know if you need it.
You Might Be Interested in These Scholarships:
Decision Time (When You Will Receive the Decision)
Once you have submitted the application for the skilled worker UK visa online, have proved your identity, and provided documents, the decision on your visa application will come within the below time frame:
If you are outside the UK, you will get the decision in 3 weeks.
If you are inside the UK, you will receive the decision in 8 weeks.
Costs Involved in This Skilled Worker Visa
There are charges involved in getting this visa. You, your partner, and your children will need to:
Pay the application fees
Pay the healthcare surcharge for each year of your stay
Prove that you possess/have sufficient personal savings
Note: You may check how much money, you will need.
What You Are Entitled to Do and What Not
You can do an eligible job
You can study
You can bring your dependents (partner and children) if they are eligible
You can do voluntary work
You can travel abroad and can then return to the United Kingdom
If you have lived in the United Kingdom for 5 years and meet other eligibility requirements, you may apply for permanent settlement in the UK (also popular as 'indefinite leave to remain').
You Are Not Entitled – You cannot apply for most benefits such as public funds, or state pension. You cannot change your employer or jobs unless you apply to update your visa.
How to Apply for the Skilled Worker Visa UK
Interested and eligible candidates can apply online through UK Government's website. How you can apply largely depends on whether you are:
Outside the United Kingdom and are coming to the United Kingdom
Inside the United Kingdom and extending your present visa
Inside the United Kingdom and switching from a different visa
Note: For those applicants who want to change their job or employer have to apply to update their visa. Your dependents (partner and children) can also apply to join you to live (stay) in the United Kingdom as your 'dependents' provided that they are eligible.
You are also advised to visit the official webpage to learn everything in detail.
Follow Us on Social Media for More Scholarship Opportunities
Connect us on social platforms to get more regular scholarship opportunities emerging from the world universities, colleges and institutions.
WhatsApp Group Quora Space Facebook Page Facebook Group FB Community Telegram Channel Telegram Group Instagram Linkedin Page Linkedin Group SnapChat Pinterest Tumblr Flipboard
Check Also: Immigrate to Canada with Start-Up Visa Program (Complete Guide)
Also, connect us to get our regular activity on Linkedin.
You May Like These Opportunities Also:
Which Citizenship to Be Offered to Mid-Flight Born Babies – Details
How You Can Get Spain Work Visa Legally and Easily – Check Details
Estonia Digital Nomad Visa Program