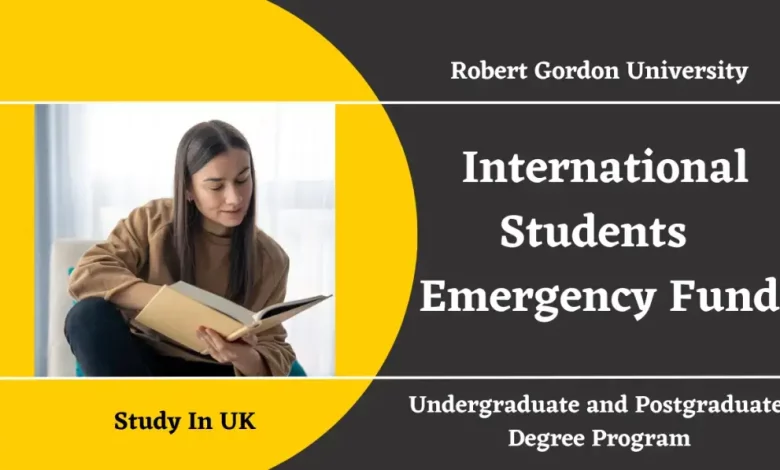 Candidates are invited to the International Students Emergency Fund established by Robert Gordon University and Scottish Government for the academic year 2023-2024.
The fund is open for international students pursuing an on-campus full-time and part-time undergraduate and postgraduate degree program. Selected candidates will get basic living costs such as food, utilities, and rent, depending on the circumstances.
Robert Gordon University honors degrees in diverse disciplines from BA/BSc to PhD. It is one of two universities in the city that provided adult and technical education in the 19th and early 20th centuries. CDA works with industry and regulators to identify and deliver efficiencies and economies.
Why at the Robert Gordon University? The university presents a regular collection of graduate jobs and placements for students. Here candidates can gain the capability to analyze and develop opportunities, cultural sensitivity, networking, and adaptability.
Application Deadline: 14 June 2023
Brief Description
University or Organization: Robert Gordon University
Department: NA
Course Level: Undergraduate and Postgraduate
Award: Basic living costs such as food, utilities, and rent
Access Mode: Online
Number of Awards: NA
Nationality: International
The award can be taken in the UK
Eligibility
Eligible Countries: Austria, Azerbaijan, Bahrain, Bangladesh, Belgium, Botswana, Brunei, Bulgaria, Cambodia, Cameroon, Canada, China, Croatia, Cyprus, Czech Republic, Denmark, Egypt, Estonia, Finland, France, Germany, Ghana, Greece, Hong Kong, Hungary, India, Indonesia, Iran, Italy, Japan, Jordan, Kazakhstan, Kenya, Kuwait, Latvia, Lithuania, Luxembourg, Malaysia, Malta, Mexico, Namibia, Nepal, Netherlands, Nigeria, Norway, Oman, Pakistan, Poland, Portugal, Qatar, Republic of Ireland, Romania, Russia, Rwanda, Saudi Arabia, Singapore, Slovakia, Slovenia, Sierra Leone, South Africa, South Korea, Spain, Sri Lanka, Sweden, Taiwan, Tanzania, Thailand, Turkey, Uganda, Ukraine, United Arab Emirates, USA, Vietnam, and Zimbabwe students are eligible to apply.
Acceptable Course or Subjects: The scholarship will be awarded for an undergraduate and postgraduate degree in all subjects Robert Gordon University offers.
Admissible Criteria: To be eligible, the applicants must meet all the following criteria:
Applicants have applied to the Home Office for a form of leave or extension of the right to stay in the UK, i.e., Ukraine Extension Scheme, asylum seekers, students with little rest to remain, etc.
They must be registered and attend an RGU course.
They have exhausted all other possible sources of funding available to them.
They can prove they are in financial difficulty.
How to Apply
How to Apply: If you are interested in this education award, you must be admitted to any of your chosen courses at the university. After enrolling, claimants can download the award application forms, and all supporting documentation must be uploaded to AskRGU.
Supporting Documents: Candidates may be asked for a personal statement, motivation letter, two letters of recommendation from advisors, a CV, and a copy of a valid passport.
Admission Requirements: Applicants must complete the relevant country-specific entry requirements for admission to their preferred program.
Language Requirement: Applicants must meet English language requirements to be able to study at the university.
Benefits
Robert Gordon University will provide basic living costs such as food, utilities, and rent, dependent on individual circumstances.
CURATED FROM: Scholarship-Positions