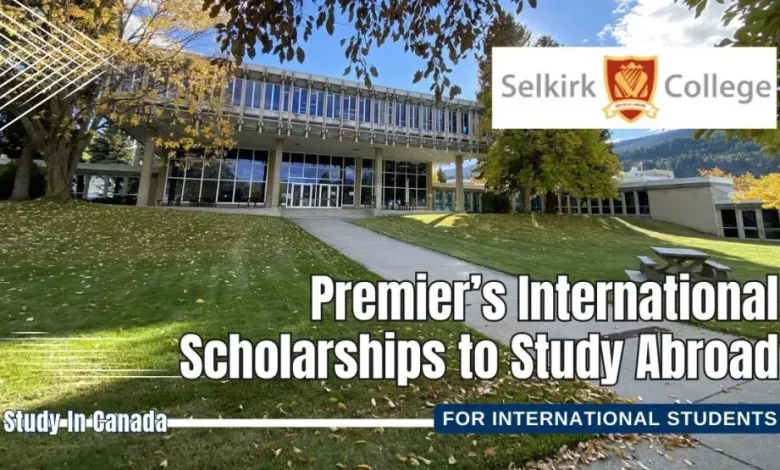 Studying and working abroad can be an incredibly enriching experience, but the cost can be intimidating. ?Support is available! Applications are open for the Premier's International Scholarships for the 2023/2024 academic year.
The award program is open to students wishing to pursue post-secondary education outside of Canada or the United States. Selected students will receive help to cover the costs, including tuition, accommodation and more.
Selkirk College is a public post-secondary community college established in 1966. It offers a wide variety of English language, university transfer and career programs designed for students' success.
Why study at Selkirk College? It is recognized as one of the best universities for domestic and international students. It offers more than 60 full-time undergraduate degree courses along with 5 postgraduate diploma programs.
Application Deadline: 15 April 2023, at 4:30 p.m.
Brief Description
University or Organization: Selkirk College
Department: NA
Course Level: Degree or diploma
Award: $8000 – $12000
Access Mode: Online
Number of Awards: 10-12
Nationality: Domestic
The award can be taken in Canada
Eligibility
Eligible Countries: Canada
Acceptable Course or Subjects: The scholarship will be awarded for an academic program (degree or diploma).
Admissible Criteria: To be eligible, the applicants must meet all the following criteria:
The student must be enrolled in an academic program that leads to a credential (degree or diploma) that requires at least two years of full-time study to complete.
How to Apply: To apply, print off the application form and submit all required documents to the study abroad coordinator at [email protected].
Visit the online application system here.
Create an account. To start the application process, applicants will be asked a series of questions regarding their eligibility for a scholarship.
Supporting Documents: To complete their admission file, applicants must support their application by sending documents to require documents:
Applicants will need to upload a copy of their unofficial transcript(s);
Applicants must provide two (2) email addresses for separate References who can speak to their abilities, accomplishments, activities, character, motivations and/or success as a global citizen.
Admission Requirements: Applicants must meet all the scholarship criteria as well as the following additional criteria:
The study/work abroad program begins between May of the current year and April of the following year.
The study/work abroad program is a minimum of one semester in length.
The student has achieved a B+ or equivalent academic standing.
Language Requirement: English language skills are required.
Benefits
Ten to twenty scholarships are awarded throughout the province each year on the basis of merit.
CURATED FROM: Scholarship-positions