Apps
WhatsApp latest features are awesome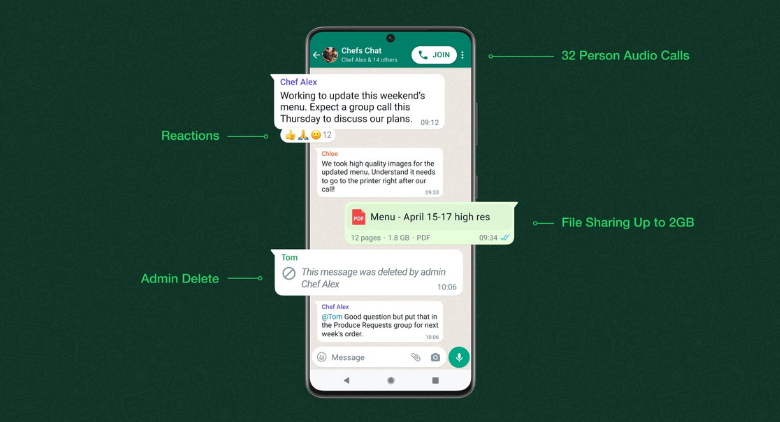 WhatsApp has announced that it is rolling out Emoji Reactions in messages, the ability to share file sizes for up to 2GB, and to add up to 512 people in a group, starting today, the Meta-owned company has confirmed in a blogpost. Facebook owner Mark Zuckerberg has also announced the WhatsApp Reactions feature on his platform. Last month, the messaging platform teased these features next to its newest Communities feature on the platform built for organisations, businesses and other close-knit groups, which is set to release later this year.
WhatsApp latest features
WhatsApp Reactions With Emojis
The WhatsApp Reactions feature is not new to people who are already involved in the Meta's other owned apps like Messenger, and Instagram DMs, to name a few. Rival apps like Telegram and Apple's iMessage have also had this feature for quite a while now. So, emoji reactions in messages allow people in the chat to react to a received message with an emoji instead of hitting reply and reacting to it. This is a quick and easy way to respond to a message about what's happening in a group chat rather than reacting with another message blocking the free flow of conversations. WhatsApp further assures us to improve these reactions by adding a few more emojis, as currently, these are limited to a small number.
Now Share Files Up Upto 2GB
WhatsApp has enabled file sharing sizes up to 2GB within the chats, a significant bump from the previous 100MB limit. The messaging platform believes this could be helpful for small businesses alongside school groups. To take full advantage of the larger file sharing feature, WhatsApp recommends utilising it over WiFi to make the experience hassle-free. The messaging platform will also provide a display counter showcasing upload or download status and ETA for the large files being transferred.
Add 512 People To A Group
Meta owned messaging platform now lets you add up to 512 people in a single group. It happens to be the most requested feature to add more people to a group, and WhatsApp now allows you to do that. The messaging platform currently allows only 256 participants for a group, and this new ability is undoubtedly a notable increase. This could be handy for organisations with more people or institutions with more students; instead of relying on multiple groups, all can be under one roof with this new means.
Moreover, alongside all the new features, chats are ensured to be end-to-end encrypted, private, safe and secure. Users can soon be seeing these features on their WhatsApp accounts, provided they're on their latest version of the app on iOS and Android platforms.