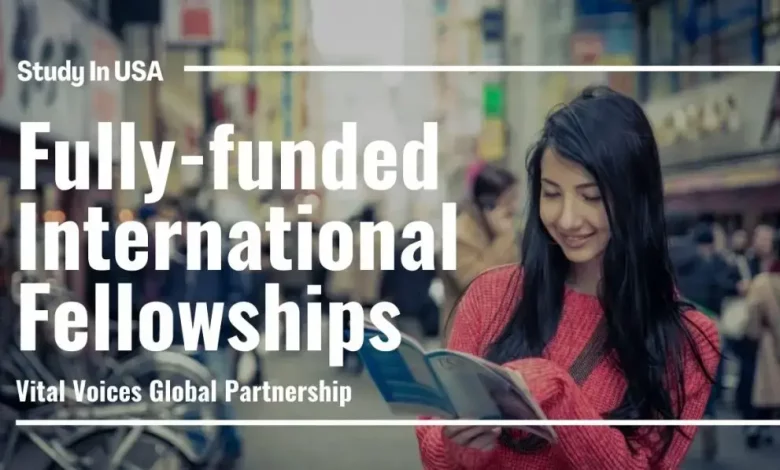 In support of outstanding women political leaders making and influencing policy across the globe, the Vital Voices Global Partnership is launching the Fully-funded International Fellowship to Advance Women's Public Leadership and the SDGS for the academic year 2023-2024.
The fellowship application can exclusively made by women. Applicants committed to the principles of the organisation, who have proficiency in English and have worked as key decision makes for a minimum of three years in elected or appointed office are ideal candidates. The selected candidates will be awarded training and global networking opportunities.
The Vital Voices Global Partnership is a non-profit organisation on the simple idea that nations and communities cannot move forward without women's voices in leadership positions. It is an organisation that invests in women who are taking on the world's greatest challenges.
The Vital Voices Global Partnership serves as a 'venture catalyst' that identifies leaders with a daring vision for change and partners with them to make that vision a reality and partners with women who practice the kind of leadership that unites and inspires people. The organisation believes that investing on one will impact a thousand more.
Application Deadline: The fellowship application must be submitted by 11:59pm EST on March 26th, 2023.
Brief Description
University or Organization: Vital VoicesGlobal Partnership
Department: NA
Course Level: Postgraduate
Award: Fully funded
Number of Awards: NA
Access Mode: Online
Nationality: International and Domestic
The award can be taken in the USA
Eligibility
Eligible Countries: All country students.
Eligible Course or Subjects: Candidates can apply for the
Eligibility Criteria: To be eligible, the applicants must meet all the following/given criteria:
The applicants must be identified as women.
The applicants must demonstrate leadership ability, high potential for future leadership development.
The applicants must have a basic understanding of the policy-making process in their community.
How to Apply
How to Apply: Candidates interested to apply for this fellowship can submit an application form to be considered.
Supporting Documents: The applicants will be required to provide information such as name, contact, language proficiency, and other necessary details.
Admission Requirements: The applicants must have a minimum of three years in elected or appointed office, as the key decision-maker for a civil society organization, or in related political leadership work.
Language Requirement: The applicants must be proficient in English.
Benefits
The winners will be awarded a fully funded fellowship opportunity along with benefits such as online and in-person training with experts and a chance to build a global network with participants, peers and mentors.
CURATED FROM: Scholarship-positions