Having problems trying to tag back a person who untagged himself or herself from your Facebook post? Then worry no more. But you need to be aware that the person who has untagged himself or herself from your post needs to be aware of this and can only make the process of you tagging him or her back possible.
Facebook kept this rules to prevent abuse when one untags himself or herself from a post he or she doesn't like and many people are now finding it difficult to be retagged in a post where they might have mistakenly removed the tag, annoyingly removed the tag or out of other unknown reasons.
Today, we bring to you the easy way to get things done very quickly. We are going to be assuming that you are the one who untagged yourself and wants to be tagged back in the Facebook post. Follow the steps:
1. Login to your Facebook Account using a Computer
2. Locate Activity Log by clicking the arrow head down at the top right side.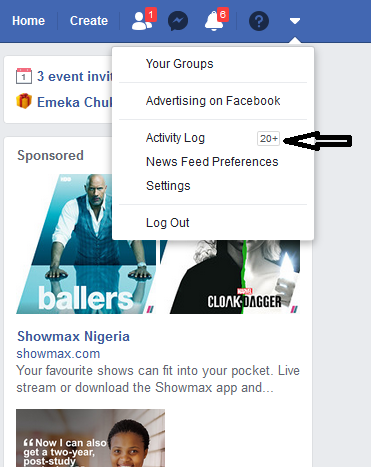 3. At the left hand side of the 'Activity Log' page, select 'Other's posts to your timeline'

4. After step 3, you will now see a list of many of your activities. You can quickly scroll to the date when you untagged yourself from the post or gradually search until you see it. You will see something like this:

5. Now simply delete this message and tell the person to now re-tag you in the post. It should go through at this time.