If you are thinking of emigrating to Australia then you'll need to complete an Australian visa application form, which can be complex and time-consuming.
Fortunately, we're here to help. We might not be able to fix it for you, but we can give you some idea of what to expect and how to navigate the process.
There are a perplexing number of visa options for Australia. However, this is mainly a result of the way the visa system is organized: where other countries slot visa applicants into a couple of categories, Australia has a visa for everyone. There are two separate visas for people who are fleeing persecution in the country of their birth; one for if you still live there, and one if you don't. This illustrates the complexity of the Australian visa system.
However the system is put together, in practice there are four main ways you'll get in:
if you have a relative to sponsor you,
if you're bringing something Australia needs, like money or works skills,
if you used to live there or
if you're a refugee.
To move to Australia for work, you'll need to either be nominated or sponsored, or have a particularly impressive skill or record. In keeping with the way their visa system is organized, Australia offers specific, individual visas for people who fall into these categories.
While some people are eligible for visas based on their international sports career, and we will briefly cover those below, most of us are going to need another route in.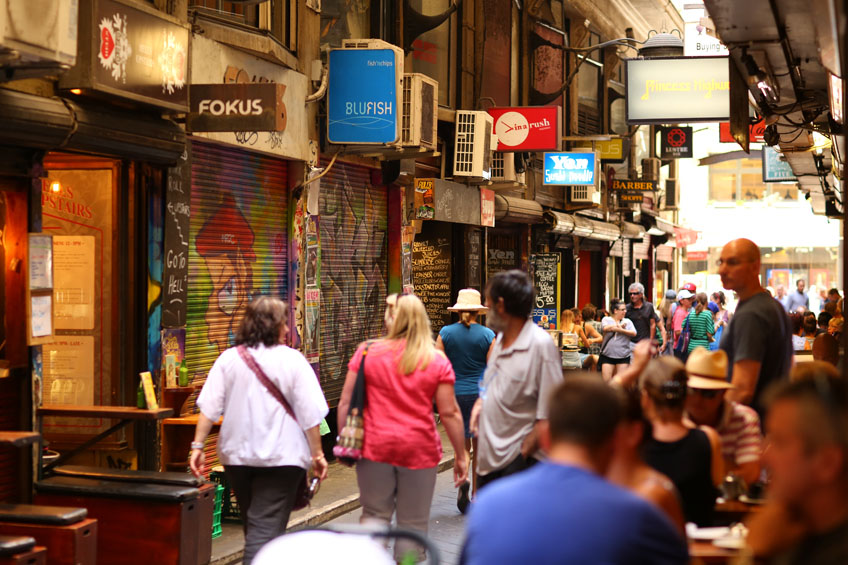 Expression of Interest to Emigrate
You'll begin by registering an EOI – an Expression of Interest. This isn't a visa application: it's notice that you'd be interested in making a visa application, if you were invited to.
Essentially, the 'gateway' to the Australian visa process is the EOI. If your EOI is good, you'll be invited to apply for an appropriate visa.
The next step is in the hands of the Australian government. In response to your EOI, the Minister will invite some applicants to apply for visas.
The following covers sponsored and independent work visas – but to decide which visas you should be considering, there's a Visa Wizard at the Australian government's Department of Immigration and Border Control website.
Work Visas For Australia
When you want to move to Australia to work, you'll either go down an employer-nominated route or a points-based skill migration route. The first works by having an employer sponsor your visa – they tell the Australian government that they want you in Australia, working for them. There are conditions – you must be younger than 50 and meet the skills, qualifications and English language requirements, unless you qualify for exemptions.
You'd also need to apply for the 'stream' under which you were nominated. These are the Temporary Residence Streams, where you are converting your status from a temporary to a permanent visa; the Direct Entry Stream, where you're entering from outside Australia, directly on this visa; and the Agreement Scheme stream, which is dependent on certain types of employer agreements.
The second route, points-based skills migration, assesses your potential contribution to the Australian economy on the basis of a points system – whose pass mark fluctuates from time to time, confusingly.
To get in on a work visa, your job needs to fall under the Skilled Occupation List (SOL), which changes depending on where Australia's labour shortages lie. There's a strong bend in the directions of physical sciences, education and healthcare, and management and design level construction and extraction jobs. If you're a mining engineer, a sonographer, a teacher or a chiropractor, Australia welcomes you with open arms – provided you pass the points test. This is covered in more detail at the SkillSelect page of the Australian immigration service's website.
You need to have an Australian Skills Recognition Information (ASRI) test completed to send off with your EOI. In some cases that means having testing done independently; in the case of an electrician, for instance, you'd need to be assessed by Trades Recognition Australia, and could qualify for four different visas: the Employer Nomination Scheme (Subclass 186), Regional Sponsored Migration Scheme (Subclass 187), SkillSelect (Points Based Skilled Migration), or Temporary Business (Long Stay) – Standard Business Sponsorship (Subclass 457) visas.
Points are awarded in the categories of 'age' (30 possible), English language (20 possible), skilled employment within Australia (20 possible), 'skilled employment overseas' (15 possible), qualifications (20 possible), Australian qualifications (5 possible), 'application with your spouse' (possible 5 points), 'community language skills' (possible 5 points), 'regional study' (5 possible), 'completion of a professional year' (5 possible), and 'state/territory sponsorship' (10 possible). There's an unofficial points calculator here that allows you to find out how many points you merit; the Australian government's official guide to the points system is here.
SkillSelect will hold on to your EOI for a maximum of two years and weigh your information against openings for visas. You can only be invited to apply for one category of visa at a time.
You'll also need to pass a police clearance exam. This is time-consuming, and it's the responsibility of the national police force of your home country, meaning that there's nothing the Australian immigration authorities can do to speed the process up.
If you don't qualify through the points system, but you do pass the basic eligibility test and the police clearance, you can still apply and might be successful – it's just that the odds are against you. You can apply for a temporary visa that lasts for up to four years, though, and use that time to improve your chances of getting a permanent visa further down the line.
If you don't want to enter Australia on a work visa, you could try looking at a business skills or investor's visa. These are also covered by the visa wizard.
Costs of Applying For An Australian Visa
Finally, you should consider your costs. Visa applications for Australia are expensive: An Employer Nomination (Subclass 186) lodged for a single individual would cost about £2,000. An Investor (Subclass 891) visa application costs about £1, 355 for a single individual. There's a visa cost calculator here, which will help you figure out the costs you'll face.
Australia attracts more UK migrants than anywhere else, and the quality of life there continues to attract migrants eager to celebrate Christmas with a barbecue on the beach. But the process of getting permanent residence in Australia is time-consuming and expensive!