Finding hard time mentioning the name of your friend or loved one on a Facebook post or comment box? Worry not, the easiest way to do that will be shown here.
Why Mention?
There are several reasons why we mention the name of our friends, partner or family members on Facebook. Some times it is necessary to mention in comment boxes, so as to alert the person whose name was mentioned to respond swiftly. Moreover we can mention names when asked to tag someone for a particular purpose.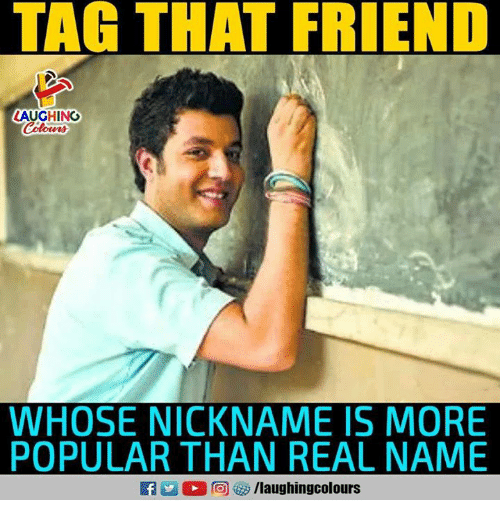 Tagging a friend on Facebook is same as mentioning the person's name on the post or in the comment section. It is also essential to mention names if you need to bring the attention of the person you are mentioning to question. For example; You might want to involve the person in a discussion where he or she isn't opportune to see. You can also want to mention a person when dropping a New post on your Facebook wall.
How do i mention names on Facebook or tag names?
It although looks very simple and easy to do but many have failed to do this when the normal way fails. They do not look for alternatives to do so and hence they won't be able to mention that name they really wanted to mention. If you have ever been in this category, then there is hope now.
To mention a name, begin by typing the person's first name beginning with a Capital Letter, then a drop down of all the names associated to the first name will pop up. You can either scroll down and search for the person's name or give a space and type the person's second name for a faster search.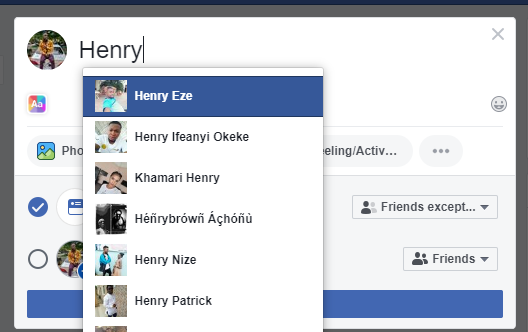 In some cases, the above way might prove abortive and that is when the speculated means of adding a name mention comes in. Just go to the comment section where you want to mention the name or while adding a new post and type '@' followed by the first letter of the person's name you want to mention, then wait to see a drop down of names or you can quickly type the person's full name for faster search.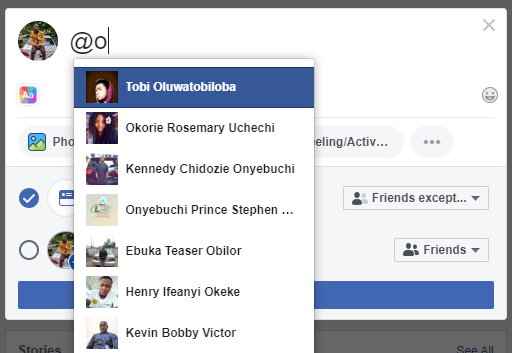 Name mentioning on Facebook can also occur when you quickly use the reply button in a comment section.