Visiting New York is something many millions of people do but it is also a very popular place to live and work and has some great attractions for those looking at doing so.
There are five New York boroughs:
Manhattan is the smallest borough, coming in at 23 square miles, but has the highest population density. With tourists attractions such as the Times Square and the Empire State Building it is the heart of New York. It is also a hub for creative institutions, such as NBC, along with banking ones like Wall Street.
Brooklyn, once considered the poorer suburb cousin of Manhattan, is a more spacey and quiet existence. Now offering such delights as Coney Island, a prime view of the Manhattan skyline and a great restaurant scene it has attracted more than 2.5 million residents to live there.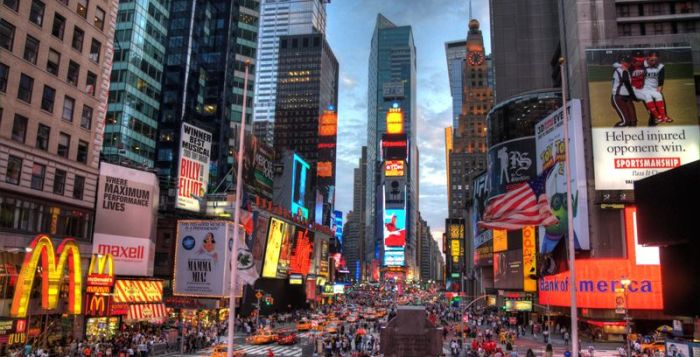 The most northern New York borough, and incidentally the only part of the city on the mainland,  The Bronx is mainly a residential area but is also home to Yankee Stadium, the New York Botanical Garden, and the Bronx Zoo.
Queens is, without a doubt, the sportiest location in New York with the National Tennis Center hosting the U.S. Open and Citi Field home of the New York Mets. It also has acres of green space at Flushing Meadows.  The most ethnically diverse of all the boroughs it is also home to New York's two biggest airports, LaGuardia and John F. Kennedy.
The most suburban area of New York takes you away from all the hustle and bustle of the city as it is devoid of a subway connection and instead has to be reached by a twenty minute ferry ride from Downtown Manhattan; however the trip does have some amazing views of the Statue of Liberty. Staten Island has the smallest residential population of any other borough of New York making it that little bit calmer than the rest of the city.
Work
A great amount of people, including foreign workers, seek employment in New York every year. Salaries in the city tend to be much higher than other places in the country but then so does the price of almost everything. Jobs are mainly available in the service industries or large overseas banking and finance companies. Give yourself an advantage by having previous relevant experience, a master's degree, or a second or third language. Help is available from recruitment agencies and head-hunters, who work personally to find your dream job.
Housing
The New York housing market is even tougher than the job market. Choose the borough best suited to you and your needs first – the diversity means there's something for everyone. Rent in Manhattan is one of the most expensive in the world and paying more than $2,000 a month for a small studio is not uncommon. If you're a student Manhattan will be the biggest draw but families will do better in the more spacious boroughs of Brooklyn or Staten Island.
Health
Good quality hospitals and health care centres are abundant in New York but free healthcare is not. While emergency rooms have to treat individuals in need of emergency attention regardless of their financial situation under Federal Law, private health insurance plans are usually used to manage the high fees. This may be subsidised by your employer. Maternity care is typically covered under medical insurance plans but dental insurance is only available separately. Pharmacies are usually found in grocery stories or 'drug stores' and supply prescription medication as well as 'over the counter' medication such as aspirin and allergy relief.
Education
The U.S education system is good and offers free public education for resident children between the ages of 5 and 21. There's also a highly competitive private school system if you can afford to pay. If you are immigrating to New York with children of school-age you'll need to present immunisation records, proof of your child's age, and proof of legal residency to your child's new school. The city government ensures that all local public schools accept students that live within their neighbourhood zones but public schools are selective and often have long waiting lists. The education curriculum is state-wide and the compulsory education age is 6-16. For further education, New York offers several top universities and colleges, including NYU, Columbia, and the Julliard School of Performing Arts.
Open a European Company specialise in all aspects of international company formation.
For further information please visit the site below and fill in the very short form and make sure you enter the code AIP77 in the "Information" field. This will put you in touch with the correct person. http://openaeuropeancompany.com/general-pages/contact-us.html