I guess this is a very tricky one because both countries are very similar in most cases but i'm gonna go so deep in this one to provide you with both the similarities and differences to help you make your choice.
Australia is a very fantastic and reserved country to live in, it offers a very amazing and nice weather compared to any Canadian province. It's most lovely city in terms of weather condition is Sydney and the harshest and most complained about is Melbourne. But despite how harsh in climatic condition Melbourne tends to be, it's still said to be better than any Canadian province.
Canada tends to have a geographical advantage over Australia. Traveling to other countries such as the United States is easier and shorter in distance than it is from Australia.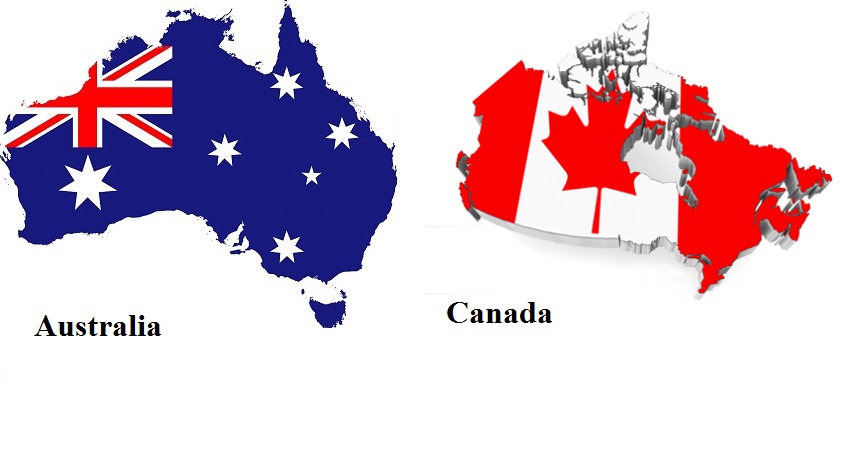 When it comes to food productions, Australia produces some of the foods they feed on, and can proudly sell them as an Australian grown, whereas Canada depends highly on countries like the US and Mexico for it's fresh produce, and importing such stuffs from other countries automatically shoots up there prices.
In terms of healthcare, work, education and making friends etc. Both countries are pretty similar. Both as nature may have it, both countries still have their different advantages and disadvantages. IN terms of weather, Canada tends to be more cold and icy compared to the fairer cool and breezy Australia but choosing between both countries still boils down to choices because some people will still chose the icy Canada over the fair weathered Australia.
There are some cultural and behavioral differences i spotted between this two amazing countries. With both countries known for being naturally friendly and nice to visitors, Canadians still tends to have a lot of sarcasm, irony and loads of self depreciation found i them compared to the Aussies who tease each other a lot and have more of a drinking culture, blunt and less polite.
In terms of health care in both countries, i would say it varies a bit between states and provinces. Some state's healthcare services tends to be cheaper and much better than the other, likewise the provinces. Though the quality of care in both countries are generally similar and high. So, it all goes down to personal choices.
Taxes in Australia is quite higher than taxes in Canada. But the Aussies still boast of a better salary and minimum wages compared to their counterparts.
The greatest advantage you will have when living in Canada is their proximity to USA and Europe and Canada is also well respected in the entire word because of its high-tech industrial society and it's high standard of living. Both countries are absolutely great to migrate to so, it's a matter of personal choice.
Comparing there various outdoor lives, though Canada has reasonable number of beautiful places to visit, but their very cold weather makes it less desirable to do so. Australia on it's part is a place for lots of outdoor living. Places like beaches, and wild lives are numerous.
Safety in both countries are significantly high, though Canada edges Australia slightly in this aspect due to their open culture an racial tolerance.
Australia offers more employment opportunities compared to Canada. But the problem is that he Aussies prefers recruiting local candidates over migrants whereas Canada with it's less jobs are fairly smooth in their recruitment process.