Canada's visa process is quite disconcerting and challenging as it involves lot of research and paperwork. However, the main point is to understanding what the Canadian authorities demand from potential immigrants and then select the course accordingly. Always remember that Canada itself requires immigration, so if you find the right track which would benefit you and also shows how Canada can profit from having you then you will successfully have Canada visa. But before that you need to insure about what immigration options you have and which suits you well. Depending upon your objectives and personal conditions there are many ways of obtaining Canadian visas and permanent residency. There are different types of visas in Canada i.e. Temporary Visa, Study Visa, Work Permit Visa, Permanent Resident, etc.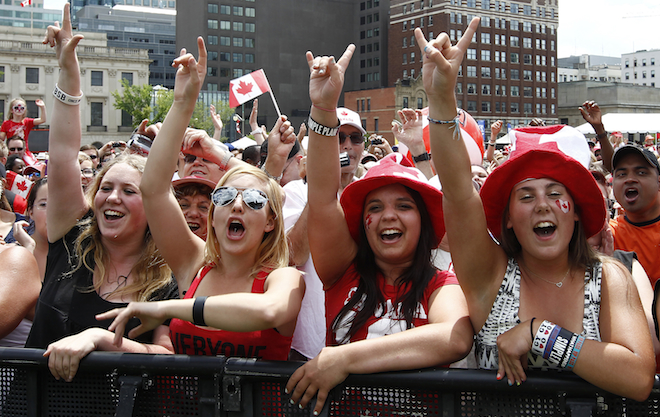 Temporary Visas
Canadian Temporary Visa is a great option for those who wish to come to Canada for studies, work or for vacations. If you are planning to be in Canada only for a limited period of time, then Temporary Visa is the best option for you. Following are the temporary visas explained in detail.
Work Permit Visas
If an individual wants to work in Canada, he or she will require to obtain a Work Permit Visa. Having said that, to obtain the said Work Permit, the individual must show that there is a job waiting for him in Canada. The employer must also vouch for this individual as well. The process for applying for a Work Permit Visa is complicated and has a strict deadline attached to it.
These visas are usually temporary and require regular renewal, or in the very least, till your contract with the company expires. The reapplication process of these visas can be difficult considering that the individual might be busy with work to take care of it.
To earn a Work Permit Visa, one needs to have a document inviting you to work for the company you have declared you work for. This is the least of the documents that you will be requiring for this process. Having your documents and proof letters organized and attested is half the battle won.
Investor/Entrepreneur Visas
This form of Non-Immigration Visa is the best gateway for businessmen and investors to take their businesses to Canada and spread their scope. The business person needs to disclose the amount of time they are intending to spend in the country and this needs to be adhered to strictly. There are, however, fair chances of your application of an extension to be accepted.
Startups, or high potential ventures often need to spread the word of their business and innovative ideas around the world in order get the maximum possible traction. This is exactly why entrepreneurs and investors require a visa specific to their requirements. If you are looking to set up a business in Canada, if you are looking to invest in a business in Canada, in both these cases you need an investor visa.
The applicant also needs to submit a very particular set of documents and have a number of pertinent permissions. The interview is the final stage of obtaining this type of Non-Immigrant Visa.
Investor/Entrepreneur visas are particularly geared towards attracting skilled migrants who can set up profitable businesses in Canada. These visas are heavily supported in Canada because these individuals are seen as people who are going to invest in the communities they inhabit and do business in. Canada looks forward to the prospect of having more successful businesses starting in their cities. Canada wants to see you have about 250,000 dollars of investment capital before you can start the business or gain an Investor/Entrepreneur Visa.
Student Visas
Students aspiring to study in Canada to expand their career horizons need a student visa to pursue their dreams. This form of a visa requires an enormous amount of documentation and has a range of procedures that one needs to follow. This can be a long and tiresome process for a student already dealing with a lot of pressure.
The Student Visa is usually valid for the period of time of the course selected by the student and requires a series of checks before it is granted. Canada may offer students a chance to work while they are studying, while for some courses this permission may not be granted.
There are essentially two stages of applications for this process, one is to apply for the college and one is for the Student Visa. The Student Visa application needs a number of documents to be furnished by the student in question. Documents like your acceptance letter from the college you applied to, your English proficiency examination results, as well as other recommendation letters should be gathered before submitting the application for the Student Visa.
It is important that the student is well-prepared for the interview for the Student Visa. The interview assures the consulate of the intentions of the students and it is important to get it absolutely spot on. This is one of the most important stages of obtaining a Student Visa and should always be handled with the help of professionals.
Visitor Visa
A visitor visa can have a variety of purposes that can range from getting medical treatment, for short term business purposes or even for leisure. The purpose of this visit, however, needs to be made amply clear. The individual also needs to show clear intent of returning to the country of origin once the purpose of the visit is served. The visitor visa has a strict deadline and the applicant may also have to specify exactly the amount of time they will be spending in the country.
The applicant must explain the purpose of their visit in great detail while also providing the required documents, reference letters, and an undertaking of return. The duration of the visa changes, this is also heavily dependent upon the application and the nature of the visit. Canada's regulation regarding this visa need to be carefully acknowledged and adhered to if one wants their application to be processed smoothly.
It is ideal to plan the reissuing of your visa or an extension of your trip in advance, the possibility should always be kept in mind to avoid last minute hassles. Plan your travel itinerary in accordance with the amount of time you are expecting to spend in the Canada. Renewals are tricky and should be approached only under careful guidance of a professional body or consults.
Family Based Immigrant Visa
Any immigrant settled in Canada can invite their family member over, in certain cases. The family member(s) can claim their immigration rights through the Family Based Immigrant Visa. This visa is usually available to direct family members, and in the case of a few specific cases, to certain distant relationships and family members.
The individuals who can make the most this visa type are spouses, unmarried children, adopted children, etc. that have a permanent resident vouching for them. There is a considerable time duration that goes into applying and obtaining this type of visas. This process has a large amount of documentation, forms and applications that need to be filled out and submitted over and above a comprehensive interview.
Many people usually struggle with getting their dependents come live them in the country of their choice.  The Family Based Immigrant Visa requires a lot of long hours as well as tiresome filling of umpteen forms and getting a large number of documents in order. For the dependents applying for such a visa it is essential that they have a direct family member who has a permanent residency in Canada.
It is important that one takes professional help for the process of this visa. The documents, essential paperwork, interviews and other procedures need a lot of detailed checking and knowledge.
It is very important to be clear on these laws to avoid a rejection of the visa or having one revoked when your dependents are already there. This makes it all the more important for applicants to go through professional help when applying for a Family Based Immigrant Visa.
Preparing for Canada Visa interview questions: General advice
1. Ensure you have researched the company and the role extensively. If you are new to the country, you need to demonstrate an ability to get up to speed quickly.
2. Prepare to speak about your motivation for moving to Canada and how long you plan to stay. Do not mention "temporary work permit" or "gap year". Companies want to hire someone who is focused on building a career with the company. Ensure that you display you are determined to stay in Canada long term by proving yourself worthy to employers.
3. Many interviews will begin with the prompt "tell me about yourself". Prepare a two-minute overview of yourself that takes your interviewers through your resume and displays your suitability for the role in question. Practice this out loud over and over again. First impressions last, so this is a short slot to show your employer how competent you are. Do not use phrases like "as you can see". Proceed as if they have never seen your resume.
4. Write out answers to all potential interview questions and ensure the answers roll off your tongue. Your ability to plan and prepare is being examined, so do your research.
5. Sometimes interviewers will ask planned interview questions to test your ability to think on your feet. Listen carefully to each question, always pause to plan your answer and only speak when you know exactly what points you are going to make. Focus on having an introduction, a body, and a summary for each answer.
6. Speak slowly. It's easy to rush when nerves take over, but slowing down will ensure your brain has a chance to work out what to say next. Additionally, it will ensure your answers to interview questions are fully understood.
7. Always think before you speak.
Answering Canada Visa Interview Questions
1. Answer briefly, but try to avoid yes/no answers.
2. Don't worry about pausing before you answer — it shows you can think before answering.
3. Don't worry about admitting that you don't know something, but don't say it too often.
4. Be prepared for hypothetical interview questions — take your time, and think before you speak.
5. Be prepared for unexpected interview questions.
6. Keep the conversation moving.
7. Speak up when answering interview questions.
Success in your quest for a Canadian VISA. We at Linsdroid.com wishes you well and have also provided a link to an article where you can learn how to get through with Express Entry Application to Canada and how much you should be budgeting. Click Here to read article.