The average person consumes at least 1GB of data per month and with the growing online presence, we tend to have plenty users who are used to being on the internet, surfing and streaming videos, live matches, making video calls etc and these results in a way heavy usage of data.
Track your data usage, to help you monitor how often you should be surfing the internet and to help you maximize revenue especially if you are not using an unlimited data plan. These APPS can also give you an insight of how much data you have consumed for a certain period of time.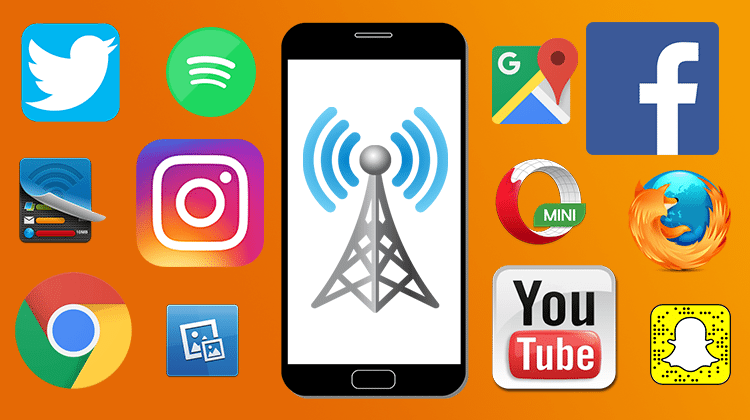 Here are the list of our chosen 8 best Data Usage Tracking APPS.
Use My Data Manager to track how much data you use, monitor what apps are using the most background data, and get alerts before you run out of data and get charged unnecessary overage fees.
Background app refreshes can consume data without your notice. Track apps and check data usage immediately, thanks to this free app you will never lose control of your mobile data balance.
With My Data Manager, you can have full control of your background data use and monitor your data cost. Never exceed your data limit again via uncontrolled functions, such as background app refreshes.
2. Data Usage
This app features most advanced data usage tracking engine, which is more precise than any other app out there.
This is the only app that constantly monitors your usage and ideal usage on same progress bar.
For example, if you have 200 MB monthly plan, on 15th day of billing cycle, your ideal usage would be 100 MB. If you are going over ideal usage at any given point in your billing cycle, by default, progress bar will turn yellow.
This unique feature ensures that you evenly spread your usage and you are not left with little quota towards end of billing cycle.
"Data Usage Monitor" is a user-friendly app for you to manage your data usage. "Data Usage Monitor" helps you to accurately measure your daily data traffic, and analyze the data in a way easy to understand. It also pops up warnings when you are reaching the data traffic limit, which protects you from data overuse. Please try "Data Usage Monitor" to manage your data usage and plan the best way to control your data traffic!
4. RadioOpt Traffic Monitor & 3G/4G Speed
With the ad-free Traffic Monitor you can check your 3G / 4G and 5G speed and keep an eye on network coverage and data usage on your smartphone. Integrated key-features: speed test for 3G / 4G and 5G networks, inspection of network availability and data usage monitoring.
5. GlassWire
GlassWire makes it easy to monitor your mobile data usage, data limits, and WiFi Internet activity in real-time. Instantly see what apps are slowing your phone's Internet connection or wasting your mobile data.
Give GlassWire a try and see what's using your WiFi and mobile data right this moment.
6. Datally: data saving app by Google
Datally is a smart app by Google that helps you save, manage, and share your mobile data.
On average, people save 21 percent of their mobile data—that's like using data Monday to Thursday, and having Friday covered by Datally.
7. 3G Watchdog
3G Watchdog monitors your Mobile and WiFi Internet data usage:
* Counts your Mobile (4G / 3G / Edge / GPRS) & WiFi usage and displays it as graph, text, and table.
* Usage by application (Android 2.2+)
* Shows your current usage status as a notification icon (green/orange/red) in the status bar.
* Plan & day usage history with CSV export/import.
* Alerts & optional auto-disable of mobile network
* Data usage widget (2 sizes). Mobile network disable/enable widget (Android 2.3 – 4.4).
* Real Time traffic graphs (Mobile and WiFi)